MERCENARY - Fleets


Here you can manage your fleets.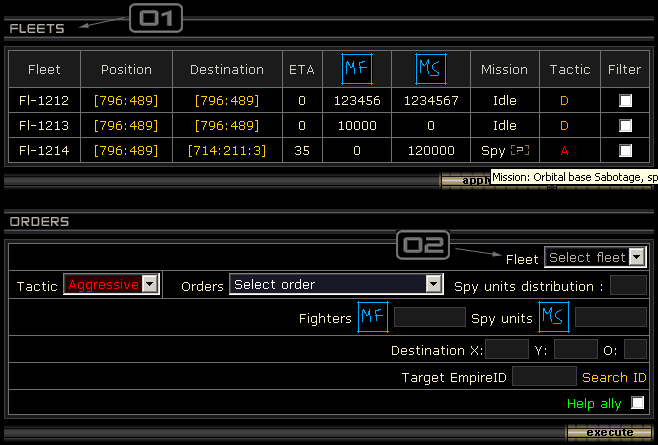 List of available fleets.



Orders form.

Here you can get all the info you need about your fleets current status - position, destination, estimated time of arrival (ETA), amount of Fighters and Spy Units, current fleet actions and tactics.

You can hide any fleet by applying the filter on it - just check the respective field and press the Apply filter button. If you canít see any fleets, but you are sure there are any, press the Show all button.

MERCENARY - Fleets Orders


You can send the following orders to your fleets:
Change tactics;
Stop;
Warp to;
Raid;
Bombard;
Attack;
Dismiss (disband).
And additional Covert Ops commands:
Industrial sabotage
Planetary Defence Sabotage
Orbital base Sabotage
which are shown as spy missions in the fleets list. Change tactics - just change tactics. Tactics can be:
Aggressive - your fleet will attack any other non-allied fleet, even if itís neutral.
Guard - your fleet will only attack enemies.
Defense - your fleet will only respond to attacks.
There is also the Help ally flag - if it is set, your fleet will help an ally if itís under attack and if your fleet has no other targets. In the fleet list, the Help ally flag is displayed as a green star near tactics.

Stop - cancel the current action. The fleet is immediately switched to idle mode.

Warp to - warp to indicated coordinates. Fly time will depend on your current Space tech level.

Raid. You are a Mercenary, arenít you? This is your piece of cake. This option allows you to raid other playersí colonies. After a succesful raid, your loot is placed into the trade stock: you can sell it on the market.

Bombard allows you to bombard your enemies' planets.

Attack allows you to attack the player with the given Empire ID.

Dismiss (disband) - when you have no money left for fleet upkeep, you can disband part of it.

Covert ops (Spy missions)


You can execute special kind of missions (taking contract from Mercenary Guild, for Your alliance or just for fun) using Your Spy Units. Fleet is invisible during such mission, howewer only Spy Units can execute those kind of missions. There is special option, called Spy Units distribution. This option indicate, how many percents of Spy Units will be used to "cover" other Spy Units from the selected fleet, increasing chanches to succesful mission execution. Minimum success chances is 5% and the maximum is 95%. If the target race has Intelligence tech, Your chances to succesful mission execution depend from target`s tech level. Each Spy Unit make 10x damage during spy mission. If You fleet fail the mission it become visible and can be attacked by the enemy fleets. Here is a brief description of Spy Missions:
Industrial sabotage - Your Spy Units will destroy only enemy`s industry, bypassing enemy`s defence.
Planetary Defence Sabotage - Your Spy Units will destroy all available enemy`s defence buildings (Krong CEC and Fagur Tachy threated as buildings in this mission).
Orbital base Sabotage - Your Spy Units attempt to inflict as much as possible damage to the Human Orbital Base.
You can always see what kind of mission is in process by Your fleet by move mouse pointer over (?) sign in the tactics column - it will be displayed as a hint.
Note: Fighters field is completely ignored if You coose one of the spy missions.