HUMAN - Planets


Managing your planets is one of the most important things that need to be done. We provide you with two ways of planet management.

PLANETS SCREEN

In this screen you'll get a list of all the planets you have colonized. There will be info on each planet as follows: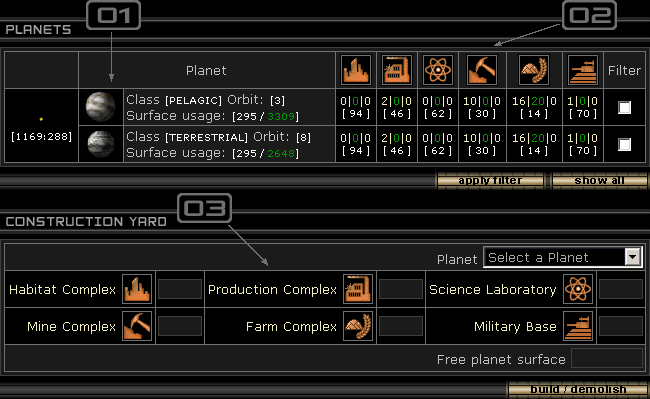 PLANET FROM SYSTEM SCREEN

In comparison with the Planets screen, the planet info from System screen will only show info on the selected planet.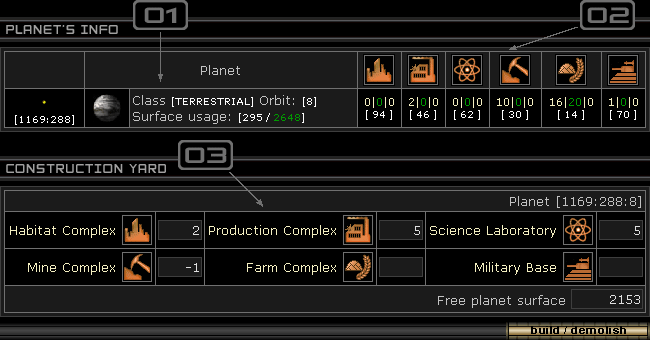 Planet info: class type, coordinates, planet surface info (used/total). You also can see a picture of the planet. If you will place the mouse on the picture you will see planet's resources distribution.

NOTE: Clicking on the planet picture will bring you to the System screen with the planet info active.



Buildings info. Here you can see available|in progress|ordered numbers of buildings on a planet. The text in [n] shows time needed for building construction on the planet.



Building order form. First you have to select a planet. Then you have to choose how many buildings you want to construct or demolish.

Construction of the ordered buildings will not start immediately. All orders will be placed in a Queue. You can also demolish your buildings, just type "-" (minus sign) before the amount you wish to demolish.

NOTE: Demolishing is an immediate result action. Read more about buildings in the Human buildings & units section.

All your actions will result in the following screen:




Order placed in Queue (no immediate result).



Building(s) demolished (an immediate result).